GREATEST SUCCESSES FROM THE PAST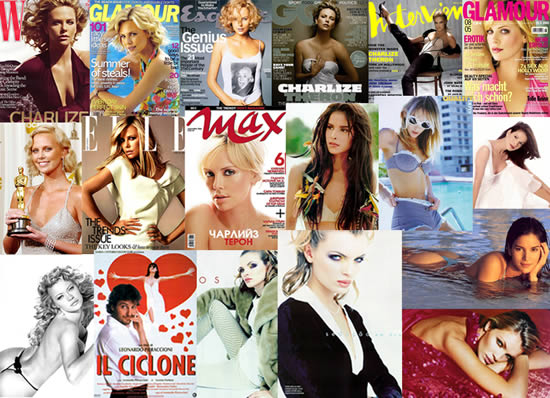 The finals of the previous seasons have been filmed and broadcast live by Italian State Television Company, RAI, with some special shows created in Bahamas, Portugal, Kenya and Marocco. Almost every winner started modelling on the most known catwalks for great International marques, like Armani, Versace, Ferré, Krizia and many more...

We can remember:

CHARLIZE THERON
Worldwide TV promotion for MARTINI (do you remember the blonde girl's clothe that comes unstitched while she's walking away from the table?) – female co-protagonist in "THE DEVIL'S ADVOCATE", with Al Pacino and Keanu Reeves – female co-protagonist in "THE VALLEY" with Tom Hanks – co-protagonist in "MEET JOE BLACK" with Anthony Hopkins and Brad Pitt. She became the first African to win an Academy Award in a major acting category, for the film "THE MONSTER".

LORENA FORTEZA
Worldwide TV promotion for sport shoes SUPERGA. Major actress in "IL CICLONE" by Leonardo Pieraccioni and in "FACCIAMO FIESTA" with Alessandro Gassman.

BERENICE DODD
Worldwide TV promotion for CAMPARI SODA and espresso coffee maker DE LONGHI (the beautiful lady who meets the "special" bus driver PEDRO). Cover girl for BAZAAR America and MARIE CLAIRE.

GEORGINA GREENVILLE
Worldwide press promotion for GUCCI; VOGUE France and ELLE France cover girl.

ESTER CANADAS
Cover girl for VOGUE America, ANNA and AMICA. Promoter for FERRE', KRIZIA and ARMANI.

ANNA FALCHI
Model, show girl, anchor woman and actress for the big screen and TV.